"But if it were, and I suddenly had to die, the sea at Leda would appear before my eyes, our rock, the hot pebbles, the flaming lemon trees…"

Nikos Kazantzakis ("Alexis Zorbas") about Lentas
Rooms & Studios OASIS
OASIS rooms and studios are available for one to four people. The rooms are located just one minute from the village beach, in a very quiet part of the village.
The rooms and studios are spacious and spotless and include:
bathroom
balcony or terrace
cooking facilities & refridgerator
air condition
tv connection
free internet access (WI-FI & ethernet)
Service twice a week.
Prices
| persons | April-June | July-Aug. | Sept.-Oct. |
| --- | --- | --- | --- |
| 1-2 | 30 | 30 | 30 |
| 3 | 33 | 35 | 33 |
| 4 | 35 | 40 | 35 |
Breakfast is available for an extra charge of € 6.50 per person.
Dinner is available for a fee of € 12.50 per person.
Breakfast and dinner are served at OASIS tavern on the beach.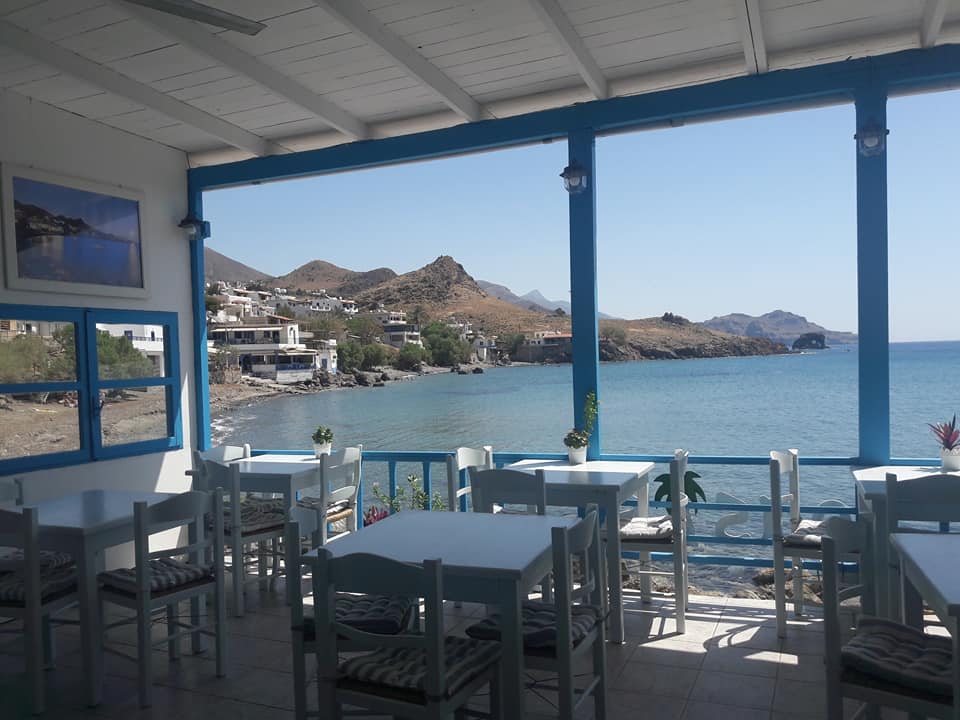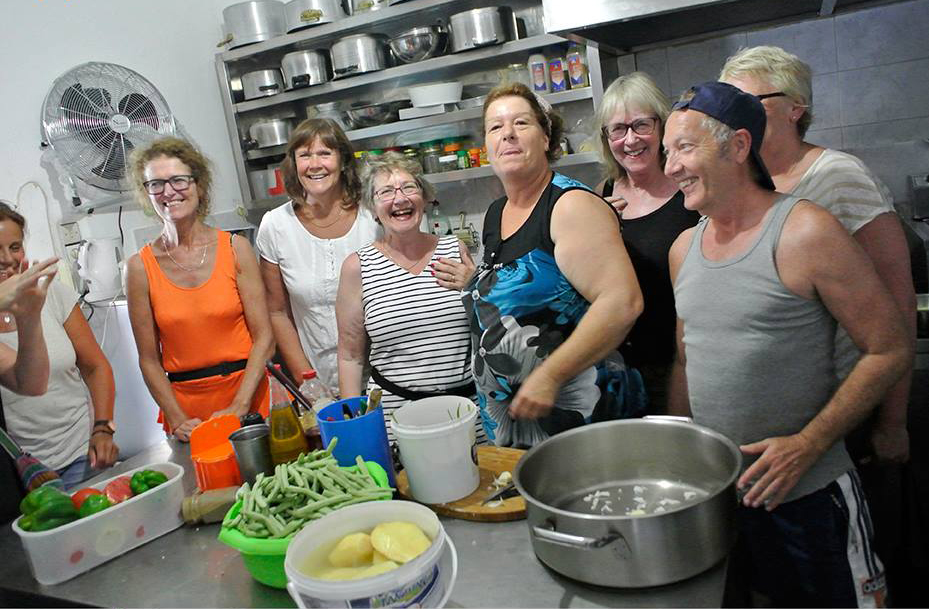 Taverna
Taverna OASIS is located at the beach of the village. Enjoy the view while tasing the famous healthy and delicious Cretan cuisine – or order a pizza for a change…
Angela is known for her excellent cooking. Experience her specialties – for example Cretan rabbit stew or her famous pork in orange sauce – and her delicious vegetable cuisine, e.g.
briam (ratatouille)
gemista, baked tomatoes or peppers stuffed with rice, vegetables and fresh herbs
stuffed peppers full of feta
fava, a purée of peas and olive oil
gigantes, beans baked in a thick, sweet tomato sauce
beets with oil and garlic
horta, stamnagathi and other wild leafy greens with oil and lemon – very healthy!

dolmades, stuffed wine leafsand courgettes flowers
imam, sliced eggplants cooked with oil, tomatoes, onions and spices
ladera, vegetable soups or pots consisting of a variety of vegetables (okra, green beans, tomatoes, zucchini, eggplants and legumes) cooked or baked, with oil and tomato sauce
Chat with our friendly and helpful staff – we are always here for you!
Eat well, enjoy Cretan wine, and have a lot of fun!
Visit our taverna on facebook and the travel consultant trip advisor.

Village Lentas & surrounding areas
Lentas is a small village in the deep South of Crete, only an hour by car or one and a half by bus from Heraklion, but very far from the crowds. Beautiful, quiet beaches, an impressive mountain landscape and friendly people await you!
Lentas falls in the climatic zone of North Africa and thus enjoys significantly more sunny days and high temperatures during the summer than the rest of Mediterranean Europe.
Although the environment is so beautiful, Lentas is still a quiet place, away from the crowds. It has a beach for children with pebbles / sand, with wicker umbrellas and some taverns on the beach.
Visit the 3 km long sand and pebble beach in Dyskos – only a 25 minute walk along the road or even less if you cross a small goat trail over the lion's back.
Walk east an hour or drive to explore the gorge of Trafoula. To walk through the gorge you only need a 20 minute walk to reach the beautiful, secluded half moon beach at the end, with its amazing rocks! – You can also visit Trafulas beach by boat.
Walk about an hour to the east (on goat paths or on the gravel road) or drive by car (attention, gravel road with steep parts!) Past the harbor towards Cape Tripiti. On the way, some quaint beach taverns offer refreshments, and there and again you will find beautiful and quiet beaches. – It is also possible to visit the beach at the exit of the Trafulas Gorge on foot or by boat.
Visit the small church built into the rocks, just above the road after the entrance of Trafulas, a most peaceful place with a stunning view.
Lentas was once the port of Gortyna, a flourishing city in antiquity. You can visit the archeological site of Gortys in a half of hour by car.
Myth of the lion
Mythology says that the characteristic mountain that protects the village and has the form of a male lion, was left behind from an Egyptian Queen when she visited the island of Crete. It stood there waiting for her to return, gazing at the sea, until it was petrified. To this day it stands there proudly, protecting the village and its inhabitants.
To honor the lion, the village was renamed Lentas, from the word "λέοντας" – which means "lion".
History of Lentas
Lentas has been inhabited permanently for over 5,000 years. There are archaeological signs and traces dating back from the neolithic era.
An Early Minoan settlement dating back to 2,500-1,900 BC supposedly had trade relations with Egypt.
During the Hellenistic and Roman era, Levin, later Levina (ancient Greek: Λέβην, Λεβήνα – probably derived from the semitic word lebi / labi for lion) as it was called at that time was a harbor for the ancient city of Gortys, which became the most prominent city of Crete after the fall of Knossos.
At the end of the classical period (beginning of the 4th century BC) the Gortynians founded the sanctuary of Asclepius in the port. It became a famous temple of hygiene / healing. The Asklepieia were founded and built in open areas that were full of light and close to healing waters. Light – air – water were the three basic elements which symbolized the conditions of preservation of good health and life in general. Treatment for disease and mental illness included among other the incubation, a type of anesthesia which is caused by psychotropic substances and secret herbs. The preliminary treatment for entering the Asclepieia was purification. – The mineral water from an ancient spring near the temple of Asclepius is believed to have healing qualities.
The small Byzantine church of Agios Ioannis was built in the 14th century.
The famous Greek writer Nikos Kazantzakis ("Alexis Zorbas") visited Lentas in the 1930s. From a letter to Eleni Samiou:
"But if it were, and I suddenly had to die, the sea at Leda would appear before my eyes, our rock, the hot pebbles, the flaming lemon trees…"
Transport
With a rental car it takes about one hour from Heraklion to Lentas.
Your transportation from Heraclion Airport to Lentas costs about 80€ in case you contact one of our local taxidrivers. You can find them online or you can ask us to book the taxi for you. (Notice: If you take a taxi at the airport you may be charched more.)
On weekdays (if it's not a holiday) there is public transport from Heraklion to Lentas once a day, leaving Heraklion around noon.
You can also use this form to contact us or ask  for a reservation.